Anne likes as much variety in her dinners as possible. She is however also suspicious of "new" foods. A challenging combination! I have however bullied her into trying various "new" foods -- usually "ethnic" ones -- from time to time and 9 times out of 10 she ends up liking it, even asks for it again!
So on Friday night I took her to
"Delights of Paradise"
, an upmarket Indian restaurant here at Woolloongabba. And we just had
Chaat
(snacks). We had
Dahi Puri, Sev Puri, Aloo Tikki Chaat
and
Samoosas
like you have never seen them before.
Dahi Puri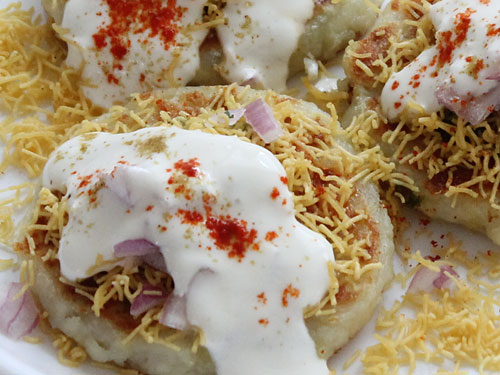 Aloo Tikki Chaat
Poor Anne really struggled but she did end up eating most of it and is ready for another trip -- but not too soon. I thought it was all wonderful.
Then on Monday morning I made her breakfast "soup", but not like any soup you have had before. It's something I remembered from my distant youth. It's what working-class Italians in the North start their day with. You heat up some milk, break eggs into it (I used only the yolks), add coffee and sugar. You then serve it up and break bread into it. It's pretty good stuff. So Anne had to cope with that "new" thing as well. But as it was basically just milky coffee it was much more familiar to her and she was quite pleased at having something "different".
A lot of fun
UPDATE: Next Friday night I asked her did she want to have Chaat again and got a firm "No". She did however want to try the main meals there so we did that. She ordered a fish curry and greatly enjoyed it. BUT: It gave her food poisoning. Nothing serious, just Scombroid food poisoning, which can be countered by antihistamines. So she suddenly had the symptoms of a heavy cold for a couple of hours. That place is bad to her.