It was difficult to get our New Zealand families over for our birthday month because of clashes with school times for the kids. So they couldn't get here for everything. But they prioritized Joe's birthday. And on Thursday night they arrived with Jenny and me to welcome them: Von, Suz, Hannah and Dusty. Sahara got left behind in Invercargill in the care of her father for some reason. Ken picked them up from the airport and transported them to Jenny's place. Maureen was there too
Von was looking gorgeous as usual -- in her woolly singlet -- and even Suz had made an effort at dressing up, something she is not much inclined to do. Von was in great form -- as happy as a lark -- and Hannah was full of beans too. Dusty was quite serious at age 7. Hannah has grown quite tall and quite confident at age 8 and was full of feminine mannerisms as she talked. She is already the lady you would expect of Von's daughter. At one stage she said -- to general surprise -- that she likes flies. Ken then said that he did too. It's amazing what can be genetically transmitted.
Hannah is a very lucky girl in this day and age. Because she and her mother are so alike, she has a mother who understands her readily plus she has a father at home who adores her. You don't get much better than that and it's becoming rare these days.
A lot of the talk was about New Zealand and the trip over -- to fill in our Brisbane people about the other lives in New Zealand. Von, Suz and their kids seem to be regular New Zealanders now.
Fortunately they do not seem to have acquired the strange New Zealand accent so far. The Kiwis are the only English language group to have lost an entire vowel. Cockneys have lost a consonant -- Theta -- but losing consonants is fairly common. Only the Kiwis have lost a vowel. They replace the short i sound with the grunt vowel.
An amusing story was about their reception by the immigration authorities when they arrived in Brisbane. Apparently the officer asked the girls whether they were they closely related. Dusty piped up saying they were twins. He was ignored even though he was right. No surprise that he was ignored though. The girls never did look at all alike and these days the differences seems to have grown.
I got a few expressions of sympathy about my prostate diagnosis and they all seemed to be surprised that the treatment was so simple.
The arrival was at dinner time so Jenny put on spag bol for us all plus a big bowl of salad. Jenny timed it well as we sat down shortly after the twins arrived.
On previous visits to Brisbane by the twins, we have made a point of going to a nearby restaurant that did good dosas, a South Indian offering. Such vists were much enjoyed. Sadly, that restaurant went under recently and there is nobody else nearby that does dosas.
The Dapur Dahlia has however acquired similar popularity with people I know so I wanted to get the twins to experience them as well. So I took them there, plus Jenny and their kids on Friday night (tonight).
The first dinner to arrive was for Dusty. It was a nice wire basket full of chips plus some chicken nuggets. As soon as I saw it, I said, "I want Dusty's dinner". The others agreed with me. It was quite a big lot of chips so we all had a few to taste. There were still tons left for Dusty and he did in fact polish them all off.
Suz and I had Nasi Goreng Pattaya (below) but I forget what the others had. It is basically fried rice with chicken plus an omelette on top.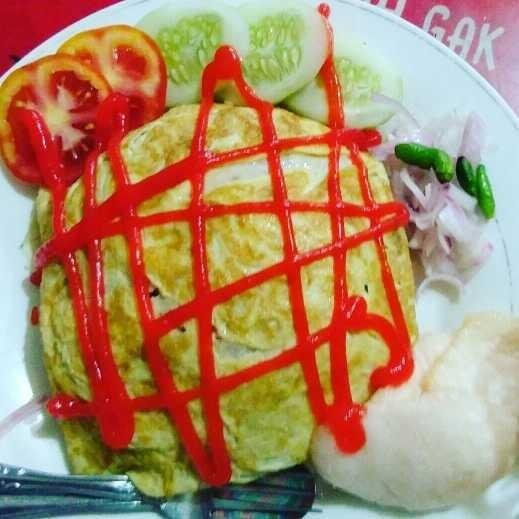 We talked about various family matters and reminiscences. Von was still upset over a memory from wayback. This was at Gordonvale where we often took our dinners down to the Gazebo to have. One night we were having spaghetti and all took our plates of it down to the gazebo. On the way, Von's dinner slipped off the plate onto the ground so became uneatable. Spaghetti is very slippery stuff so it was not really Von's fault but she was understandably upset at the time. And she is still mourning that lost plate of spaghetti.
Once again, everybody spontaneously commented how good the food was so it did turn out to be a good replacement for the dosa place. Hannah got a full-size meal but ate only about half of it so Von wanted to doggy bag it. The restaurant accommodates that but to do so sells you a nice container for a small sum. The container has Dapur Dahlia written on it in large letters. Knowing how Von collects mementoes I am betting that that container will be going back to New Zealand.